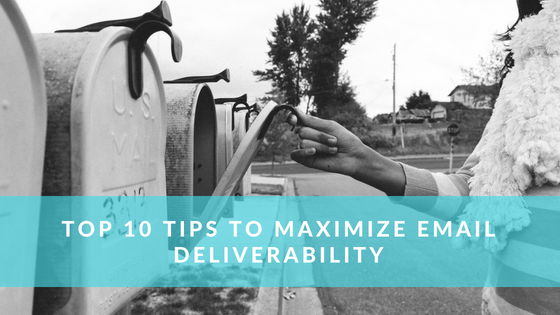 Let's face it! All businesses want excellent email deliverability rates since it's the only way your emails get seen, opened, and clicked on. Additionally, even a 1-2% increase can have a huge impact on your email statistics – improving your ROI.
But achieving excellent deliverability rates that could make a mailman jealous doesn't come easy. Think of it this way: as an email marketer, you're like the friendly neighborhood mailman. Every house that you deliver email to has a guard dog (ISP). And on days when you have junk mail (spam) or aren't friendly to folks on your route (poor IP reputation), these dogs will chase you away and only let you deliver some of your mail. To maximize your email deliverability, you need to be familiar with these 10 best deliverability tactics:
1. Don't forget the basics!
Before I get into the more advanced ways to increase your deliverability, you should make sure you aren't missing out on the basics. Here are basic things to keep in mind when leveraging email marketing:
Avoid red – red is a loud color and is used a lot by spammers. It could potentially set off spam filters.
Misleading subject lines – from blank subject lines to ones that don't even match your copy, be careful using them because they are a big part of the spam algorithm email providers employ.
Capital letters – avoid using all capital letters within your email or subject line.
Don't be too excessive with symbols – avoid using too many question marks, dollar signs and exclamation marks… especially in a row.
Don't link too much – from your calls to actions to links within the email, ideally you shouldn't use more than two or three links.
Unsubscribe links – each of your emails should contain an unsubscribe link. The harder you make it for people to unsubscribe, the more problems you will have.
Be thorough – make sure you include a proper reply to email address and a from address so that people can get in touch with you if they have any issues.
Set your alt text. Google announced recently that one of the many factors its crawlers look for when it comes to SEO and organic search rankings is the alt text, so it should come as little surprise that this is also a factor in email deliverability and accessibility – especially in Gmail inboxes. The alt text essentially tells the screen readers what images they are looking at, and what these images are for.
Create text versions of your emails. One of the most overlooked yet easiest fixes in email marketing is adding a plain text version of your email. Believe it or not, in 2018 there are still people who either cannot or do not wish to receive HTML emails. Adding a plain text version of your email template is an easy way to provide some additional support to your email send.
2. Avoid spam words.
Most people will tell you that you shouldn't have words like sex or credit in your email copy or subject line. But there are many more words you should avoid. Also, because the words vary per industry, you can't rely on one simple list to cover all cases.
For example, words you should avoid in the financial space would be different from the words within the e-commerce space.
Here are some words to avoid in the financial space:
$$$
Affordable
Bargain
Beneficiary
Best price
Big bucks
Cash
Compare rates
Cost
Credit
Credit bureaus
Discount
Earn
Easy terms
Free
In the e-commerce space, you should avoid the following words:
As seen on
Buy
Buy direct
Buying judgments
Clearance
Order
Order status
Orders shipped by
Shopper
3. Create an SPF record and DKIM for your domain.
A Sender Policy Framework (SPF) and a DKIM make you more trustworthy in the eyes of receiving email servers.
By setting up SPF with your email provider, it allows email servers to cross check your domain name against your associated IP address to make sure you're legitimate.
A DKIM, on the other hand, is a digital signature to outgoing message headers using the DKIM standard. In English, it's basically another way to verify that your email is really being sent from you, and not a hacker or third party.
Both of these things boost your deliverability. They're not hard to set up, so there's no reason not to do so.
4. Check to see if you're on any blacklists.
Just like getting whitelisted is the holy grail of email marketing, getting blacklisted is email hell.
Being on a blacklist will keep your emails from ever reaching someone's inbox. You'll be lucky to even make it to their spam folder – you probably won't make it anywhere.
To check if you're on any blacklists, you can use a free tool like MX Tool Box. It will show check you against over 100 blacklists:
If you ARE on any blacklists, don't panic. While it takes time, there are actions you can take to get off an email blacklist.
5. Don't EVER Buy Lists.
Whether you've been doing email marketing for a while or you're a brand new business just starting up, buying an email list and having a larger email database can seem attractive, but it's generally a poor practice and it may be detrimental to your deliverability rates and sender reputation. Here are four reasons why:
1. Unsolicited emails: If your recipients have never heard from you before or never opted in to receive your communications, your emails could look like spam to them.
When an email recipient marks you as spam, your sender reputation will decrease and ISPs will be suspicious of your activities. With enough spam complaints, you could land your IP on a blacklist, ultimately making it harder for all your future emails to be delivered to the folks who actually opted-in to your communications.
2. Quality: You can't always trust the quality of a list. You don't know where the names came from, whether the email addresses are correctly formatted, and whether they've been scrubbed for spam traps or syntax errors. The email addresses could be old and the demographics can be all over the place. You just never really know what you're getting yourself into.
3. Spam Rate: Email service providers and marketing automation solutions typically have spam rate thresholds in place so if you receive a certain percentage of spam complaints per email delivered, they may terminate your contract. This is because if you are using IP addresses associated with an ESP or marketing automation solution and you're sending spam, it's a bad reflection on them as well to ISPs. And they need to maintain good standing relationships with ISPs to properly service their other clients. I've heard that for some ESPs, if your spam rate goes above 0.5%, they'll reach out to you to do a full audit of your sending behaviors and list hygiene practices. They don't want to jeopardize their business reputation just because you had to buy some lists.
4. Bad Metrics: This one should be obvious. Your email metrics will plummet with bad lists! These people didn't want to hear from you, so very few of them will open and click your emails. Is getting a few email clicks worth losing customer engagement? No, especially when you have to explain the reason to your executives.
6. Keep a solid text/image ratio.
Adding images to your email template is a great way to increase engagement among recipients, and the longer your audience is engaged, the higher your chance of bringing in sales. But sometimes too much of a good thing isn't always a good thing. Having images in your email is great, but you will need to maintain a solid text to image ratio to satisfy most spam filters. A bad text/image ratio in an email can add up to 2.1 points to your overall spam score, which can drastically impact the likelihood that your email will end up in your recipients' inboxes. It is recommended that you stick to a 60/40 or 70/30 ratio at most so 70% images and 30% text at the absolute highest threshold.
7. Ask your email subscribers to whitelist you.
One of the best ways to make sure that your mailing list receives your emails is right under your nose. Just ask them to add you to their contacts! This technique is particularly useful at the beginning of your relationship with a new subscriber. Just remember that even if everyone on your email list has agreed to receive mail from you, you should still provide a prominent 'unsubscribe' link in your emails.
8. Send emails at just the right frequency.
Too many emails can burn your subscriber list. Too few emails can kill your revenue.
So what do you do to maximize deliverability? You send just the right number of emails. The only way you can find that perfect number is by thoroughly testing, which isn't easy. Plus, it takes a long time, during which time you might make some mistakes.
A good benchmark is one email per week. You can try scaling up to twice weekly, as long as you have really good content. You can even drop back to once a month without totally losing touch with your audience. But if you go anywhere outside of those two boundaries, you're in dangerous territory.
9. Review email performance monthly.
An engaged list will see 15 – 30% click to open rates ongoing with low opt-outs and low abuse complaints. If you are seeing open rates lower than 10%, this can be indicative of a non-engaged list and some work can be done. If so, analyze email performance by domain for your top domains. If all domains are performing, for example, at 15-20% opens, but one is at 1% opens, the domain at 1% is most likely junking your mail. Inability to meet these benchmark metrics, even after optimizing for content relevancy and campaign creative, can signal sending reputation issues which must be repaired.
10. Review your subscriber lists often.
Identifying and removing non-engaged recipients will boost your open rates as well as your inbox placement. Since ISPs are looking at how their recipients interact with your mail overall, sending to a large amount of recipients over and over that never engage with your messages can be detrimental to your sending reputation. Ensure you have a plan in place that work with your frequency and audience. A good tactic is to try to re engage subscribers before they become completely disengaged with messaging that re-confirms the opt-in or reminds them why they subscribed in the first place ("I miss you" messages can be an effective way to do so.).
There are other tactics and my next blog post will cover this topic in more detail so stay tuned!